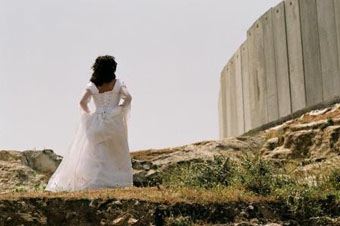 Yasmine tughani (Yasmine's song) (2006)
Origin: Unknown | Fiction | Director: Najwa Najjar | 21 minutes
---
Yasmine tughani (Yasmine's song)
Najwa Najjar 2006 Drama 21 min.
Najwa Najjar's multiaward winning short film is a tale of two lovers trying
to cross divides to be together ... they thought nothing could stop them.
Ziyad, a Palestinian man who sells flowers in a nearby village is in love
with Yasmine, a village girl. At night they meet in secret away from the
disapproving villagers' eyes. And while Yasmine's parents are busy
arranging her future, an unexpected development changes everyone's lives.
Yasmine's Song is beautifully shot in rural Palestine and features
captivating performances from some of Palestine's finest actors (including
Hesham Suleiman, Hanan Hillo, and Mohammad Bakri). The script's subtle
exploration of the challenges posed by social, political, cultural and
physical barriers signals Najjar's emergence as one of Palestine's most
promising writerdirectors.
Review: https://electronicintifada.net/content/film-review-yasmines-song/3502