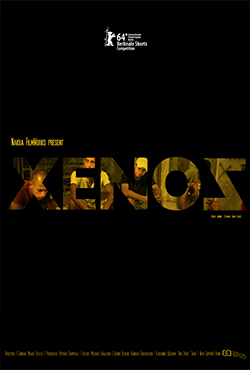 Xenos (2013)
Origin: UK | Greece | Denmark | Documentary | Director: Mahdi Fleifel | 12 minutes
---
Xenos
Director: Mahdi Fleifel 2013 docu 12 min. Language: Arabic (with English subtitles)
In 2010, Abu Eyad and other young Palestinian men from the Ain el-Helweh refugee camp in Lebanon travelled with smugglers through Syria and Turkey into Greece. Like so many other migrants, they came looking for a way into Europe but found themselves trapped in a country undergoing economic,
political and social change.
Xenos is a short documentary blending footage shot on visits to Athens in 2011 with phone conversations recorded during Abu Eyad's time there. It
tells his day-to-day struggle for survival an enduring sense of exile in a land of hope that has become a nightmare.
Genre: Short
Trailer: https://vimeo.com/ondemand/xenosshort
https://nakbafilmworks.com/xenos/
---
View trailer