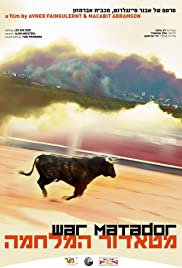 War matador (2011)
Origin: Israel | Documentary | Director: Avner Faingulernt - Macabit Abramson | 70 minutes
---
War Matador
Avner Faingulernt - Macabit Abramson 2011 docu 70 min.
In January 2009, during the war on Gaza, many Israelis travelled from all
over the country to observe the bombs falling and heavy smoke rising from
the Gaza Strip. At times a carnival atmosphere prevailed, as spectators
exhibited an alarming level of enthusiasm for these scenes of overwhelming
firepower and distant suffering. With its title suggesting parallels with
the macabre rituals of a bull fight, War Matador is a disquieting essay
about voyeurism and nationalism, suffering and tourism, in a context of a
lasting asymmetric conflict.
Trailer: https://vimeo.com/29052684
---
View trailer