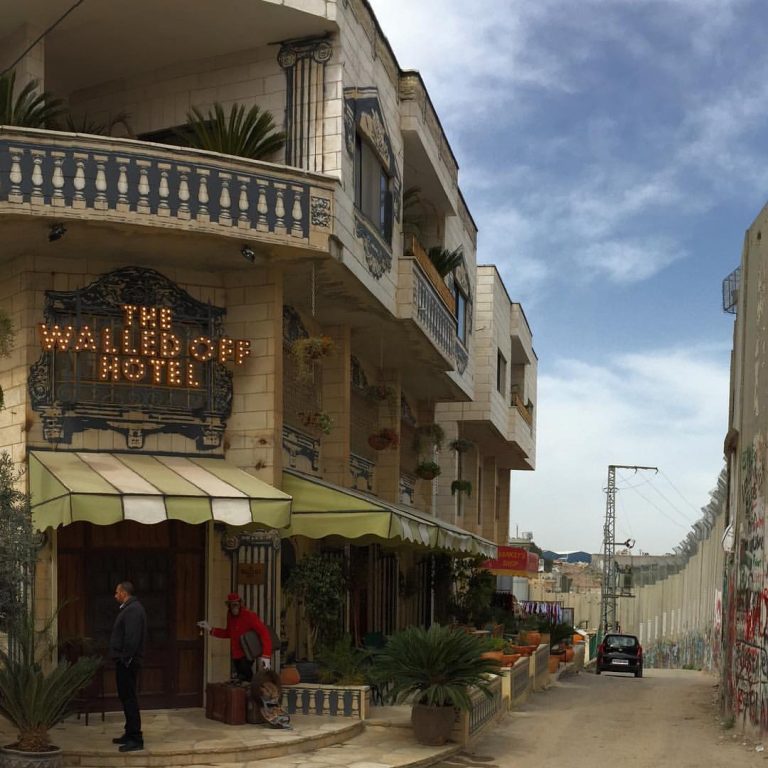 Walled Off (2022)
Origin: Palestine | Documentary | Director: Vin Arfuso | ? minutes
---
American Film Director and Producer of Palestinian and Italian descent Vin Arfuso, has teamed up with American-Palestinian-Dutch Model, Activist Musician and Film Producer Anwar Hadid, English Musician and Co-Founder of legendary rock band Pink Floyd, Roger Waters, and grandson of anti-apartheid revolutionary and former South African President Nelson Mandela, Kweku Mandela, who has produced and directed various films, to release a film/documentary on Palestine. Whilst they may all come from different backgrounds, together they all share one common goal: to be an active agent in the fight to Free Palestine.
The film, named Walled Off, references The Walled Off Hotel, designed by iconic anonymous artist Banksy, and is located in Bethlehem. The hotel is named after the West Bank Wall, built by Israel to separate Palestinians and block their entry. Boasted as having "the worst view in the world," the hotel references the view and reality of most Palestinians living under apartheid: a 708 km concrete wall which represents the racial segregation they witness everyday. For years, Banksy has used his artwork to address social, political and humanitarian injustices around the world, and Palestinians are no exception to this.
It's still not clear what the film is based on, but what we do know is that the footage of the film was recorded within Palestine in "guerilla style," after Vin's equipment was confiscated during his arrival to Israel. It is also said that Anwar Hadid will appear on screen in the highly-anticipated film. Hadid visited his homeland back in 2019, where he documented several parts of his trip to his millions of Instagram followers. "Hopefully we can show you guys the deep-rooted details that affect our people every day, even the ones who are too young to understand. I feel like this could give us all good perspectives of our own lives, to see what is truly true and real vs what is told to us to be true," he said in a now deleted post.
"Walled Off" will be shown in a pre-release screening in Albenga Italy on the 8th of September, as part of a "A Child Is Born In Bethlehem", a debut exhibition of anonymous artist-activist, Cake$. With over 300 works across Bethlehem over four years, the European artist-activist will be showcasing his work in an exhibition for the very first time, curated by British-Palestinian Art Dealer, Curator, Activist and Journalist Zayna Al-Saleh, and Italian Art Collector and Curator Lorenzo Sibilla.
Stay tuned for more.
Vin Arfuso took to his Instagram to post a teaser of the film: https://www.gqmiddleeast.com/culture/walled-off-anwar-hadid-palestine