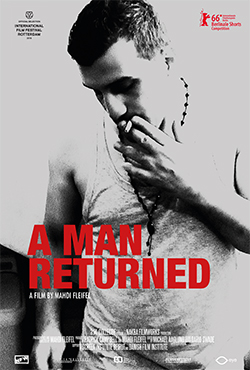 A Man Returned (2016)
Origin: UK/Palestine/Lebanon/Netherlands | Fiction | Director: Mahdi Fleifel | 30 minutes
---
A Man Returned
by Mahdi Fleifel UK, Palestine, Lebanon, Netherlands 2016 30 min.
With his latest film "A Man Returned," Danish-Palestinian director Mahdi
Fleifel hopes to shed new light on refugees' lives on Europe's borders, but
also to provide insight into the grave issue of drug addiction in the
refugee camps. Berlinale Shorts.

Mahdi Fleifel's "A Man Returned" is a love story from the refugee camp of
Ain El-Helweh in Lebanon, a place torn apart from within and without.
Photo: Nakba FilmWorks
Mahdi Fleifel spent two years in the Palestinian refugee camp of Ain El-
Helweh in Lebanon in the 1980s before his family settled in Denmark when he
was nine. For years, he has been returning to the camp, resulting in his
two previous films "A World Not Ours" (2012) and "Xenos" (2014), both
selected for the Berlinale.
Mahdi Fleifel, who is based in Amsterdam, studied film at the University of
Wales and completed an MA in writing at Royal Holloway, London, before he
graduated from the National Film and Television School in Beaconsfield,
England, in 2009. His debut documentary feature from 2012, "A World Not
Ours," was widely acclaimed, earning him over thirty awards including
prizes at the Berlinale, the Edinburgh Film Festival and DOC NYC.
"A Man Returned" is a British-Dutch-Danish co-production directed and shot
by Mahdi Fleifel, who has also produced together with Patrick Campbell for
Nakba FilmWorks, a London-based production company established in 2010 by
Fleifel and Irish producer Patrick Campbell.
The documentary premiered at the Rotterdam Film Festival in January and is
selected for the Berlinale Shorts competition.
Trailer: https://nakbafilmworks.com/a-man-returned/
---
View trailer