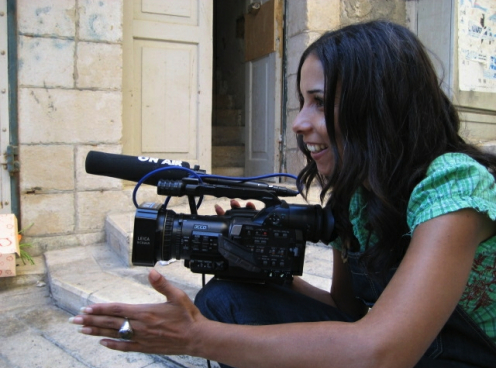 77 Steps (2010)
Origin: Israel | Documentary | Director: Ibtisam Mara'ana Menuhin | 56 minutes
---
77 Steps
Ibtisam Mara'ana Menuhin
documentary 2010, 56 min. Language: Hebrew, Arabic, English (Hebrew/English subtitles)
Trailer: http://www.youtube.com/watch?v=HSqH5y9t6HE
The personal journey of the director who leaves her Arab-Muslim village and moves to Tel-Aviv. In an attempt to find an apartment in the city, she encounters discrimination and refusal by most landlords because of her Arab origins. She finally finds an apartment, and meets her neighbor – Jonathan, a Jewish-Canadian man who immigrated to Israel. A love story evolves.
Ibtisam and Jonathan meet as newcomers to Tel Aviv, both of them strangers in the city, far from the familiar and their families. They are both searching for a sense of belonging and home. Together they to try to create a new identity during times which Israel is increasingly racist and xenophobic.
Ibtisam struggles with her Palestinian identity in the shadow of the 2009 Gaza war, Jonathan during this time grapples with his Jewish identity and Zionist dream. They do not relinquish their relationship, yet something has gone sour.
Jonathan's mother refuses to meet his girlfriend, Ibtisam, who doesn't fulfil her dream of a Jewish Bride. Ibtisam is also unable to reveal her relationship to her mother and keeps it a secret.
One day, Jonathan's 90 year old grandfather comes from Canada on a nostalgic trip to Kibbutz Ein-Dor, which he helped found in 1948. He brings with him pain, loss, immense love and a great sense of humor. Ibtisam and Jonathan join him on his trip. It becomes an individual journey for each one of them – one that takes them backwards in time and forward into the unknown, to memories and dreams, Nakba and Independence,
Love and hate longing and loss. After this journey nothing can be the way it was before. There is no turning back.
Info:
http://web.archive.org/web/20121016095131/http:/www.ibtisamfilms.com/en-us/films/details/77-Steps
---
View trailer