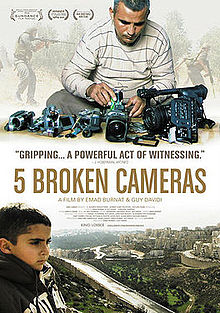 5 Broken Cameras (2011)
Origin: Palestine Israel | Documentary | Director: Emad Burnat - Guy Davidi | 53 minutes
---
Five Broken Cameras
There are five cameras — each with its own story. When his fourth son, Gibreel, is born in 2005, self-taught cameraman Emad Burnat, a Palestinian villager, gets his first camera. At the same time in his village of Bil'in, the Israelis begin bulldozing village olive groves to build a barrier to separate Bil'in from the Jewish Settlement Modi'in Illit. The barrier's route cuts off 60% of Bil'in farmland and the villagers resist this seizure of more of their land by the settlers.
During the next year, Burnat films this struggle, which is led by two of his best friends including his brother Iyad, while at the same time recording the growth of his son. Very soon, these events begin to affect his family and his own life. Emad films the Army and Police beating and arresting villagers and activists who come to support them. Settlers destroy Palestinian olive trees and attack Burnat when he tries to film them. The Army raids the village in the middle of the night to arrest children. He, his friends, and brothers are arrested or shot; some are killed. Each camera used to document these events is shot or smashed.
Eventually, in 2009, Burnat approaches Guy Davidi[5] – an Israeli filmmaker and together, from these five broken cameras and the stories that they represent, these two filmmakers create the film.
---
View trailer