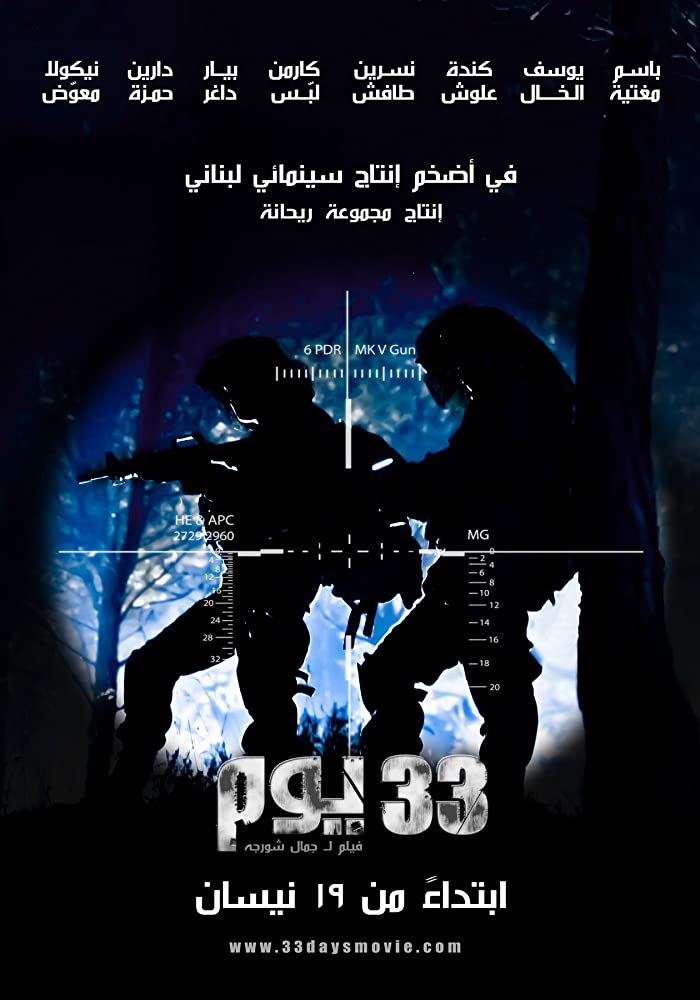 33 Days (Jamal Shoorje) (2012)
Origin: Lebanon | Fiction | Director: Jamal Shoorje | 90 minutes
---
33 Days (Jamal Shoorje)
Jamal Shoorje fictie 90 min. Lebanon 2012
Trailer: https://www.youtube.com/watch?v=519NVFGZxYw
Filmed in Lebanon during the summer of 2006, 33 DAYS follows the reallife stories of four people as Israel's Second Lebanon War is waged around them: A director working with children who take shelter in a theatre after their homes are destroyed, a journalist for an underground television station struggling to cover the war, an aid worker coordinating emergency relief efforts for thousands of displaced people, and a newsdesk director trying to cope not only with the war, but with her newborn baby. Renowned Palestinian director Mai Masri's awardwinning documentary is full of compassion and humanity, even as it follows the near devastation of a country and its people.
Review:
An amazing movie which let us thing of a bright future for the Lebanese cinema. Good direction -amazing actress and actresses-great story and techniques.
The story is about the war of 2006 between Israel and Hezbollah , and specially about the village "AYTA l CHAAB" and the people in this village who stayed fighting for 33 days alone armed with faith in Allah and courage.
The story of "Em Abbas" played by the amazing Carmen Lebbos who is a fighter who lost her sun and husband in earlier wars .
The story of "Youssef " and " Mohammed Srour" - two Hezbollah members who are ready to give there life for there village and there country.
And Avi the heartless Israeli captain who attacks on "AYTA L CHAAB " and ready to do every thing to feed his ego ....
---
View trailer